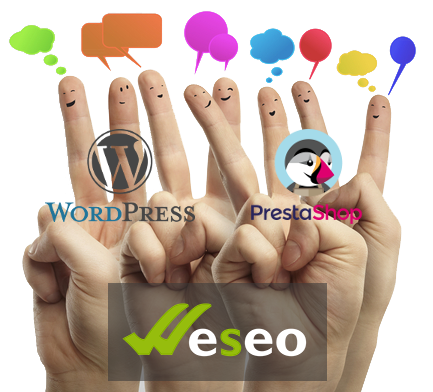 SEO for WordPress and Prestashop
Description: 
Organic SEO optimization and positioning for your web, in collaboration with the company WeSeo. The positioning is totally necessary for your business strategy and blog, online store, hotel and websites are all easily found by users Interenet through search engines.
The optimization is responsible for improving the performance of your web, touching issues such as reducing the charging time or quality programming source and design code, eliminating all those factors that make the web have failures that cause delays, failure load, security wholes … etc
Organic positioning SEO ensures content oriented to be found on search engines like Google, following and taking into account the maximum criteria that Google uses to punctuate the web and improve the ranking of natural positioning, ie without paying advertising content any issues such as the use of the words most sought-after competition, structure of URLs, metadata labeling for products, categories and images, external links from other sites and social networks touch to add traffic, etc …. so that is improved position in which Google shows your website in relation to user searches.
Marketing is addressed to paid advertising, such as Google AdWords or Facebook advertising, which is discussed in depth the advertising issue out of your website, remarketing tracking leads and a wide range of possibilities to increase web visits and thus increase conversions or sales.
Functionality:
SEO report: a report on the current page based on a study of its failure or absence of elements that adversely affect positioning is presented.
Modifications: From this report the source code is modified, permanent redirects are performed to remove broken links are add or removed tags and metadata, and unfinished factors that can improve your web forever.
Marketing and remarketing: With the necessary tools an advertising system aimed at potentially interested users, monitoring visits and web traffic, analysis of strengths and weak points, rebounds users, study competition is created …
WeSeo: Works witha certified Google partner.
Available for Wordpress and Prestashop
Each site is different, in fact the best system is to start a web thinking about positioning and optimization from scratch, although this is not always the case, we can analyze your site with a personalized and dedicated treatment, you can request a quote by your needs: